Did 'Covid' Kill the Movie Theater?
Image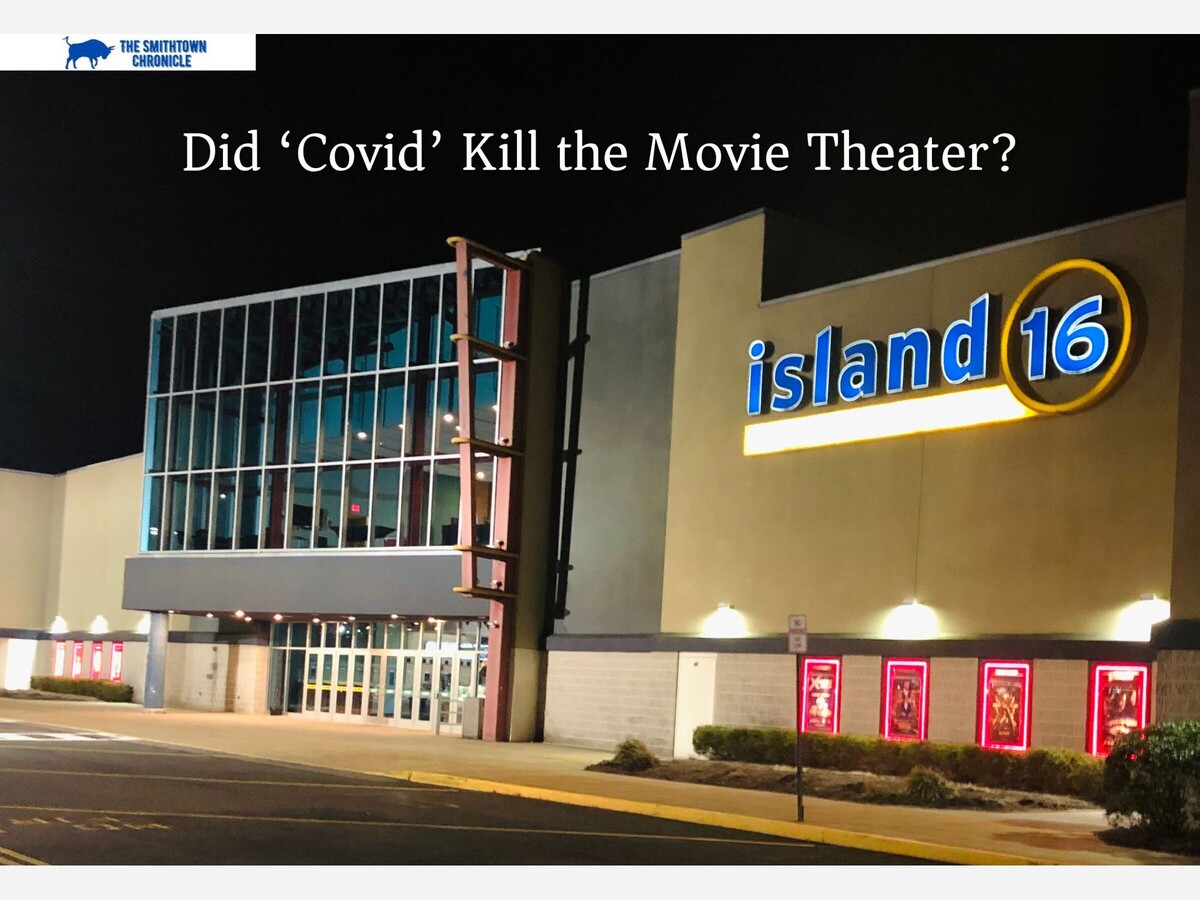 The pandemic elevated streaming services and a pivot away from theaters. Industry analysts believe streaming will eclipse the moviegoing experience with many believing the pandemic helped speed up the process. Showcase Cinemas, the parent company of Holtsville's Island 16 Cinema de Lux, expressed optimism for its future.
Mark Malinowski, Vice President of Global Marketing for Showcase Cinemas, said, "2021 actually saw significant growth over the previous year and we foresee 2022 being a much stronger year than 2021."
Theatrical revenue declined by $30 billion in 2020. Theatrical releases also decreased by 66 percent, leaving box office receipts at a 40-year low.
In 2020, Regal Cinemas closed all 543 of its theaters. Cineworld, Regal Cinemas' parent company, blamed its financial woes on the COVID-19 pandemic and movie production delays. Even AMC was on the brink of bankruptcy, operating 438 of its 593 US locations with limited seating, costing a monthly $125 million.
"Our industry has weathered many difficult moments through the decades,'' said Malinowski. "Through these unprecedented times, we come to the same conclusion - people need and want to go to the movies."
"Spider-man: No Way Home" was a boon theaters' wishes setting multiple records like the sixth-highest grossing movie in history. Perhaps more interestingly, more people than ever chose to view the film in IMAX, 4DX, ScreenX, and RPX formats.
"There is nothing like the experience of seeing a film on the big screen – the way it's meant to be seen – and we know that people want and need to go to the movies," said Malinowski. "From the sight of watching a film on the big screen, to the impact of the sound effects, to the smell and taste of freshly popped popcorn, you just simply can't recreate the experience of going to the movies from your couch."
In 2020 digital media shared 82 percent of theatrical home/mobile revenue. 2020 added 308.6 million video-streaming subscribers, with revenue from video subscriptions growing to $24.7 billion. The global streaming market of $419.03 billion is estimated to reach a whopping $932.29 billion by 2028.
Disney added 2.1 million subscribers for its fiscal fourth quarter, down from 12.6 million the previous quarter. Disney+ subscriber count tops off at a considerable 118.1 million, with 39.7 million for Hulu and 17.1 million for ESPN+.
Netflix reported an additional 4.4 million subscribers for its fiscal fourth quarter with projections of 8.5 million into the next. Currently, Netflix is the streaming king holding 214 million global paying subscribers.
HBO and HBO Max rest at the lower end of the big three, with 69.4 million global subscribers hoping to double its subscriber base by the end of 2025.
Malinowski stressed a cooperative relationship between the two mediums: "It is our belief that there is plenty of room for both streaming and traditional movie-going now and in the future."
Showcase Cinemas uses ShowcaseNOW, a video-on-demand (VOD) streaming service designed to complement and expand upon the theater experience. It offers a series of different genres to rent or buy, much like Movies Anywhere or VUDU (soon to merge with FandangoNow).
"ShowcaseNOW's curated focus includes unique current films, Bring Back films, inspirational and educational documentaries, museum tours, and exciting performances captured on stage, spanning concert arena films to musical theater," said Malinowski.
Theaters may look to hone in on specialties the digital front just can't offer. Malinowski commented that the Private Screening program was "wildly popular." Theaters could market themselves around those features.
Malinowski said, "We have seen a lot of interest in our Private Screening program during the pandemic and see this as an offering we will continue and expand upon this year."
Already, Showcase Cinemas hosts popular event programming like UFC fights, anniversary screenings of popular films, along with other popular niche genres like anime. It will be offering private screenings for birthdays and other events.
"Movies and audiences are back and we are looking forward to major releases in the coming," said Malinowski.
With COVID-19 restrictions loosening up and big blockbusters releasing, movie theaters look to take advantage. The moviegoing experience may have stiff competition, but it does not appear to be going anywhere, especially with complimentary VOD services and the luxurious experience.